Are your spiritual needs being met by your current religious practices?
Do you question the relevance of certain religious observances when it comes to expressing your faith? Are you feeling "dogged by dogma," even though you know some ancient traditions survive because they tap universal truths still relevant today?
If you and your family are interested in a path that features sincere, non-judgmental dialogue addressing spiritual life in the modern age, then look no farther – Universal Oneness United Faith Canada offers non-traditional multi-faith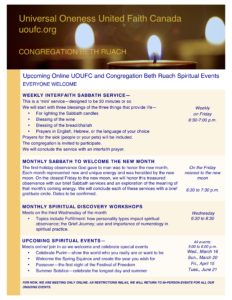 services online. Please check uoufc.org for updates to the schedule.
These services include participation by the congregation and provide a forum for meaningful spiritual connection in a supportive setting.
We promote tolerance and understanding and also welcome all sexual orientations.
The interfaith path to spiritual living may be just what you need to revitalize your faith and put a fresh spark in your heart.
We embrace people of all faiths, and even those of no faith, certain that this journey will create more light in our world. Join us for our regular Sabbath services each Friday. Please contact to register and so we can send you the link!
For more information visit: www.uoufc.org
Phone: 416-929-LOVE (5683)