NATURAL HEALING AND HEALTHY LIVING
Natural Health Practitioner and coach Alexandra Gellman specializes in trusted, simple approaches to wellness, health, nutrition, and how to improve life—in easy, do-able steps.
With a Ph.D. in Integrative Medicine, a background as a Registered Homeopath, Registered Orthomolecular Health Practitioner, and Behavioral Life Coach, and over 30 years of experience transforming the lives of clients and patients, Alex opens the door to health and well-being for many with her treatment, coaching, and guidance services.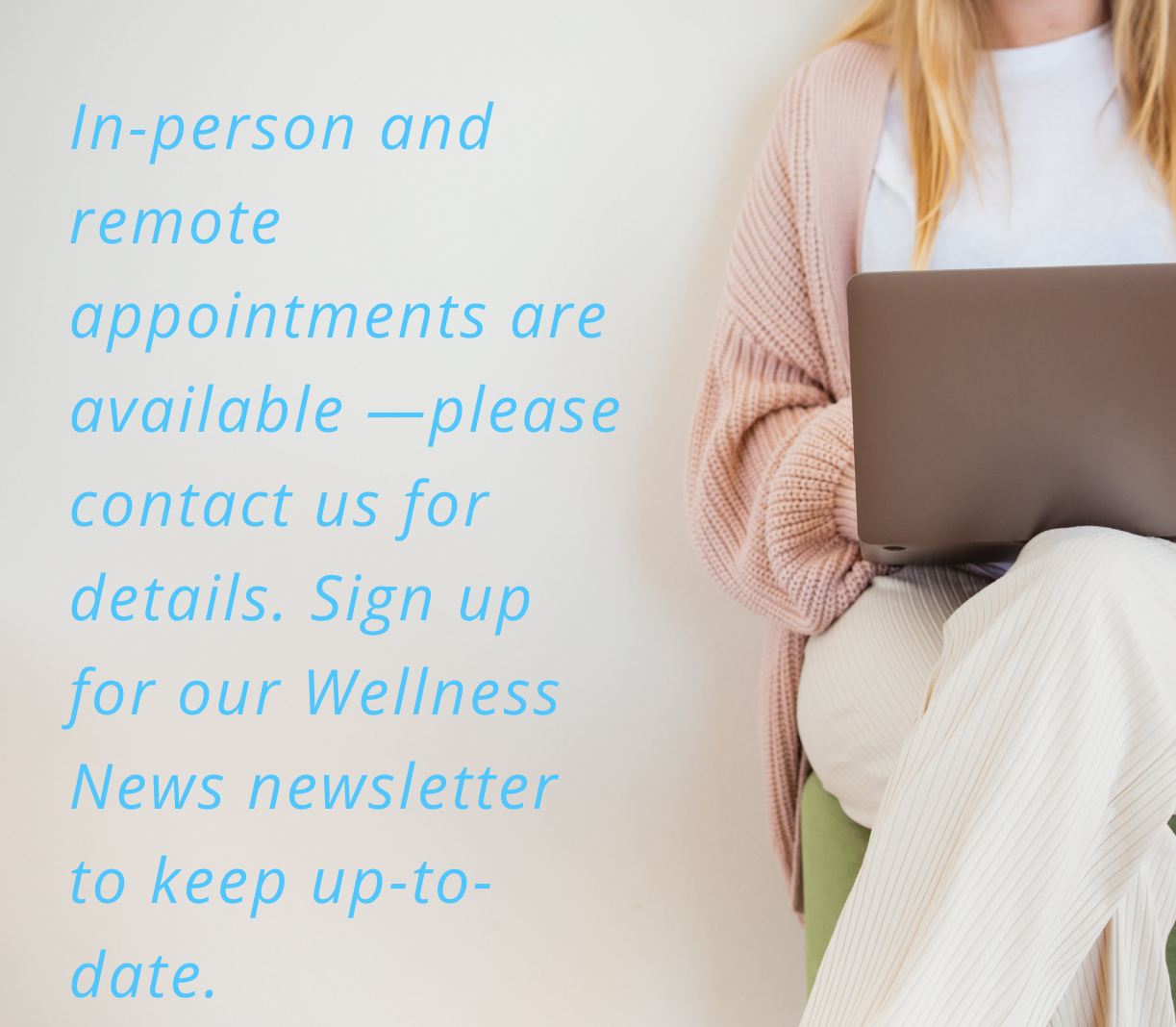 Alex Gellman offers remote and in-person appointments at the medical clinic on Lawrence Avenue West in Toronto for GTA patients.
Alex Gellman uses natural systems to help clients and patients transition to a healthier, more satisfying life plan—building wellness and creating permanent transformative lifestyle changes.
Alex offers guidance through one-on-one and tele-wellness/remote sessions or coaching to boost health naturally, plus Simple Steps to Wellness workshops, keynote talks, presentations/webinars, and remote personalized sessions.
Alex specializes in teaching trusted, simple approaches to health and nutrition and showing how to improve your life (and longevity)— in easy, do-able steps. The first step may be an Iridology Assessment, a discovery process that will likely enhance your understanding, outlook, and most likely your future.
Many clients also like to take other steps to natural wellness and coaching to reach specific goals. Please contact Alex to talk about your needs, to book a Tele-Wellness session online or an in-office consultation.

IRIDOLOGY ASSESSMENT
Please contact Alex to set up an in-office (in the GTA) or remote Iridology Assessment and Wellness appointment.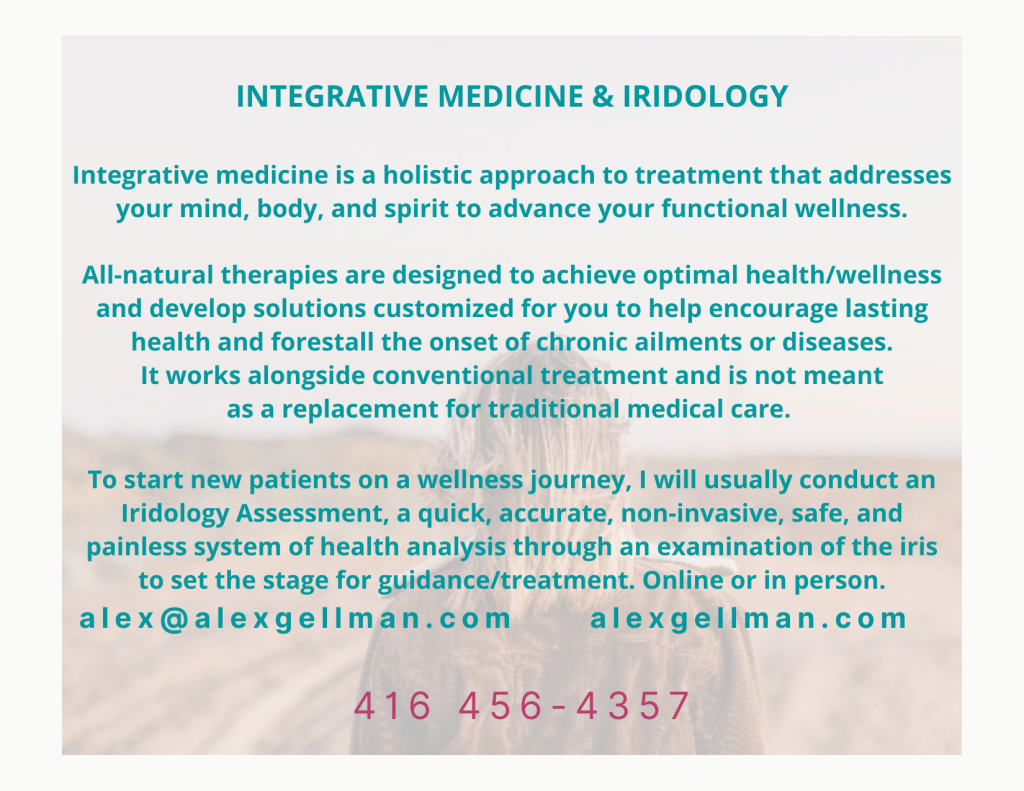 CHAKRA BALANCE RESET WORKSHOP—
Save your seat at our next workshop in Toronto —coming soon. Meet, network, and learn. Shift your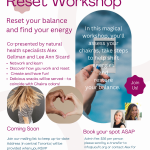 energies and restore your balance.
(Subscribe to our monthly newsletter to keep up-to-date on what's happening and what's planned! Alex)
THIS TIME, GO BEYOND RESOLUTIONS—
We offered two remote workshops earlier this year to help everyone get a head start on turning New Year's Resolutions into reality and start the journey to achieve goals and intentions. If you'd like to improve in your reality—in your wellness goals, achieving lifestyle change, or achieving your dreams, contact Alex for online or in-person guidance or sessions.
Subscribe to the newsletter (Wellness News-see this page) for updates/calendar announcements and tips in your inbox.
NATURAL HEALTH & PASSAGEWAYS TO WELLNESS BOOK AVAILABLE ON AMAZON—
Passageways to Wellness—our How-To-Guide to a Healthy Mind, Body, Soul, and Spirit has just been published in paperback on Amazon and is also available for Kindle.
Open new doors to self-awareness and life improvement. Explore your character and personality traits, susceptibilities, and pre-dispositions. Alexandra and David Gellman outline a unique holistic personal discovery process to enhance mental, physical, spiritual, and emotional wellness.
(And it's full of lifestyle/nutritional guidance and good-for-you recipes, which are also very tasty!)
NATURAL HEALING AND HEALTHY LIVING—
THE HEAL YOURSELF SERIES
Most people come to Alex for assistance in the following lifestyle and wellness areas.

EYES ARE THE WINDOW TO WELLNESS—
BETTER HEALTH WITH IRIDOLOGY
Learn critical signposts to look for to assess your health and those close to you. Understand what your eyes can tell you. Pinpoint and resolve physical and emotional concerns. Analyzing our health and wellness through the eyes gives us insight into finding the source of many personal challenges. Our eyes can open the way to discovery, natural and medical remedies, self-care, and self-directed solutions to a wide range of personal and health concerns.
HOMEOPATHY AND NATURAL REMEDIES
A long-time homeopathic proponent and practitioner, Alex has worked in clinical practice in Ontario since the nineties. She has also completed several homeopathic research studies. In 2015, she worked on a research project to help the fibromyalgia community. The results were extraordinary and featured in the American Journal of Homeopathic Medicine. She has also researched weight loss/blood type diets and homeopathy and undertaken a geriatric health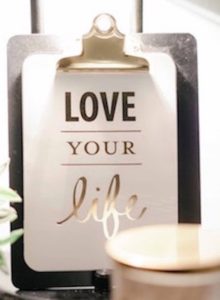 study using food and homeopathy.
TAKE CHARGE OF YOUR LIFE—BE MINDFUL
MEDITATION AND MINDFULNESS—
Improve your day-to-day and important outcomes. Learn how to be mindful with simple meditations and how this can benefit health and wellness. Explore chakras and improve your life—relax, balance, and begin to heal.
SUCCEED AT WEIGHT LOSS—
ALL ABOUT DIETS AND WHICH IS BEST FOR YOU
Lifestyle and diet guidance to get you on track and keep you there—learn how to make weight loss work
SAVE YOUR LIFE AND YOUR HEART —
HEART DISEASE IS PREVENTABLE
Avoid heart disease in seven easy steps.  Learn how to live healthier, longer and reduce your risk of heart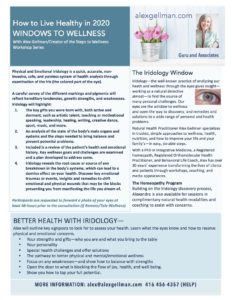 disease (and stroke!). Save your life. (And your family and friends.) Take heart.
PREVENT (OR REVERSE!) DIABETES IN 5 EASY STEPS—SUGAR KILLS—FIND OUT WHAT YOU CAN DO—
Easy lifestyle, diet, and nutrition steps you should know for the sake of your health. Learn how to manage your blood sugar and avoid health risks. Improve your life (and longevity stakes!).
HEAL YOURSELF AT THE  TABLE—EAT FOR WELLNESS & GOOD NUTRITION: ARTHRITIS/OSTEOARTHRITIS & FIBROMYALGIA
Fight chronic ailments with simple dietary changes. Alex Gellman shares accepted trusted methods and her experience, nutrition, and diet remedies in a simple five-step program.
TAKE CHARGE OF YOUR LIFE—BE MINDFUL
MEDITATION AND MINDFULNESS—
Improve your day-to-day and essential outcomes with Simple Focus Meditations—learn how to be mindful and how it can benefit—from wellness and sleep to relationships and achievements.
These topics are also covered, when scheduled, in the Heal Yourself Series of workshops. 
CORPORATE AND ASSOCIATION WELLNESS —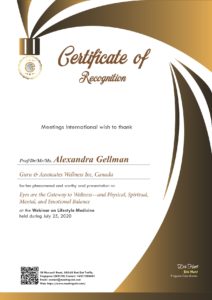 Alexandra is an experienced facilitator, practitioner, and presenter in natural health care with groups and organizations and has appeared on major TV networks. Alexandra inspires individuals, through greater self-awareness, to embrace healthier habits, overcome negative behaviors, and experience profound positive change.
She is pleased to work with groups and organizations of all sizes and offers portable wellness workshops—once this is feasible again. From retirement homes or business associations to major corporations, Alex is pleased to provide individual sessions or workshops and group or one-on-one coaching (in-person or remotely). Please get in touch with Alex to discuss your needs.
NATURAL HEALING + HEALTHY LIVING
Doctorate in Integrative Medicine
Registered Homeopath
Behavioral Executive Coach
Registered Orthomolecular Health Practitioner
Emotional & Physical Iridology
Diabetic Educator
Certified in Holistic Nutrition
Workshop/Motivational Speaker
Alex also offers Spiritual/Pastoral Counseling
CALL 416 456 4357 (HELP)
Please connect for an email copy of the Wellness Guide brochure outline of services or price list.
Sessions and webinars are also available in Spanish for groups/Girls' Night In/Out.