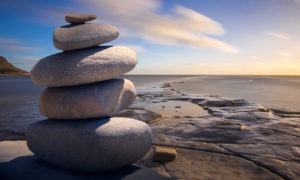 Whether acknowledged or not, we've all experienced at least a few gratifying "living in the moment" moments that were impromptu and remarkable for their impact. Think of a natural vista you may have stumbled upon – say, in the course of a hike – an awesome waterfall or a sunset that took your breath away. Or think of the magic of the first fall of giant snowflakes in winter – that always makes me pause. Such happy moments that take us outside of ourselves and yet connect us to the universe are what we seek in the pursuit of "mindfulness."
Mindfulness has the power to enrich even the most mundane task with meaningfulness. Mindful experiences are stress-free and bring inner peace, and ultimately, greater productivity. I know this yet I still catch myself busy at multitasking with goal-oriented endeavours. I live in modern times—it's hard not to do this.
But I remember to pause sometimes in my activities. I have had the good fortune to study with  masters, so I take a deep breath, and I revisit their teachings. I also take heed of my own lessons – lessons that I've had the privilege to share formally as a presenter, counsellor, and motivational speaker.
At one coaching session, I had included a lesson on mindfulness. One participant said, after:
" I learned from you that when I focus all my energy on the task at hand, I am filled with joy, inner peace, and the stress disappears."
Such genuine praise really lit up the moment for me.
That is the gift of mindfulness. Through mindfulness, you can learn how to give yourself the gift of inner peace and joy – watch for upcoming workshops or counselling sessions or ask for personal guidance. Achieving mindfulness to enhance all aspects of your life–will affect your health and wellness (and what you find you can achieve!) in many ways.
Namaste