Guru & Associates Wellness Inc. & Alex Gellman Assessment Instructions—
To ensure your first visit to the Guru & Associates Wellness Inc. office/Alex Gellman or your Tele-Wellness session is complete, please review and fill in the forms available below.
Scan and fax or email completed forms or bring them with you to the appointment if a personal consultation is scheduled. Thank you!
Please contact Alex to make your appointment —and download and complete the Information Forms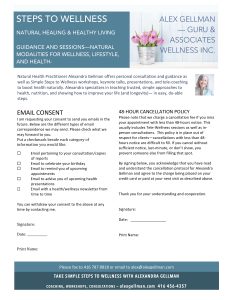 Patient Intake  Scan/return by email or fax as noted once completed—or bring with you for your in-person session. Thank you!
We are conducting Tele-Wellness seminars as well as consultations.
It is important (and a Public Health requirement) that the applicable forms are completed and returned.
Click here to download the Patient Information forms  Patient Intake (PDF). Please complete and scan/return by email or fax as indicated.
Namaste!
p.s. If you'd like to find out more about us and receive Natural Wellness News and tips in your inbox monthly, please sign up for the newsletter!