Guru & Associates Wellness Inc. & Alex Gellman PhD Assessment Instructions—
To ensure your first visit to the Guru & Associates Wellness Inc. office or your Tele-Wellness session is complete, please review and fill in the forms available below.
Please scan and fax or email all completed forms, or bring with you to the appointment if a personal consultation is scheduled. Thank you!
Please contact Alexandra to make your appointment —and download and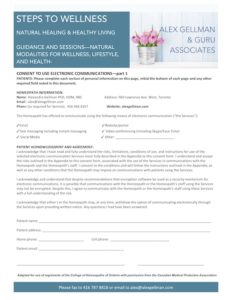 complete the Patient Information Forms. Scan/return by email or fax as noted once completed—or bring with you for your in-person session. Thank you!
During this uncertain time, we are conducting Tele-Wellness seminars as well as consultations.
It is important (and a Public Health requirement) that the applicable forms are completed and returned.
Click here to download the Patient Information forms (PDF). Please complete and scan/return by email or fax as indicated.
Namaste!